Friday, June 29, 2012
These are courtesy of
booklicious
:
Twilight
Jane Austen
Harry Potter
Narnia
Friday, June 22, 2012
This is a student documentary project exploring the world of print. It will stir your thoughts and hopefully elicit discussion about the immersive reading experience and the lost craft of the book arts. It is for people who are still passionate about reading on paper.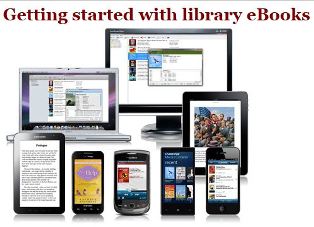 While three-quarters of the nation's public libraries now offer e-book lending services, their patrons may still lack awareness of the full range of options available. A phone survey of 2,986 Americans--ages 16 and older--conducted by the Pew Research Center's Internet & American Life Project from November 16 to December 21, 2011, found that only 12% had borrowed an e-book from a library during the previous year and 62% did not know whether their library offered e-book lending
(our library does free downloads/click here icon on the left)
.
According to the survey, 58% of respondents have a library card and 69% consider the library important to them and their family. Also of note:
58% of all library cardholders do not know if their library provides e-book lending services.
53% of all tablet computer owners do not know if their library lends e-books.
48% of all owners of e-book reading devices do not know if their library lends e-books.
47% of all those who read an e-book in the past year do not know if their library lends e-books.
"It was a genuine surprise to see these data, especially after all of the attention that has been paid to the tension between libraries and major book publishers about whether many of the most popular books should be available for lending by libraries," said Lee Rainie, director of the Pew Internet Project.

The Pew survey found that e-book borrowers read an average (the mean number) of 29 borrowed or purchased books during the past year in all formats (e-book, printed book, audiobook), compared to 23 books for readers who do not borrow e-books from a library. The median (midpoint) figures for books reportedly read are 20 in the past year by e-book borrowers and 12 by non-borrowers.

Asked about the most recent book they had read, 41% of those who borrow e-books from libraries purchased their most recent e-book.

Among e-book readers who also have library cards, 55% prefer to buy e-books, while 36% prefer borrowing them from any source (friends or libraries). For library card holders, 46% prefer to buy print books and 45% prefer to borrow print books. When it comes to e-book borrowers, 33% say they generally prefer to buy e-books and 57% say they generally prefer to borrow them.

Regarding e-title availability, 32% of e-book borrowers say the selection at their library is "good," 18% "very good" and 16% "excellent," with 23% calling the selection "fair," 4% "poor" and 8% saying they don't know.

Other notable findings:
18% of e-book borrowers say at one point or another they found that an e-book they were interested in was not compatible with the e-reading device they were using.
46% of those who do not currently borrow e-books from libraries would be "very" or "somewhat" likely to borrow an e-reading device that came loaded with a book they wanted to read.
32% of those who do not currently borrow e-books would be "very" or "somewhat" likely to take a library class on how to download e-books onto handheld devices.
32% of those who do not currently borrow e-books say they would be "very" or "somewhat" likely to take a course at a library in how to use an e-reader or tablet computer.
Kathryn Zickuhr, a research specialist at the Pew Internet Project, said the findings suggest ways that libraries might be able to build awareness: "First, these data show that public education campaigns might add to the numbers of those who are aware that e-books can be borrowed and enjoyed on new technology like tablet computers and e-book reading devices. Second, the data show that a share of patrons would appreciate being helped in their quest to master new devices and load e-books onto them."
(If you have any trouble at all with accessing e-reader content, I urge you to contact your local library. They are there to help you in any way possible.)
[courtesy of Shelf Awareness, June 22, 2012]
Thursday, June 21, 2012
I was not familiar with Charles Martin as an author, but a patron at the library recommended him highly, and I decided to read this particular book of his based on a quote on the back of the book from
Library Journal
that said: "Martin's engaging Southern family drama will have crossover appeal for readers of Pat Conroy. It deserves a place in all collections."
Pat Conroy has always been one of my favorite authors, so I decided to see what I thought about Martin and his style of writing. First let me say, I LOVED this book. It is a very moving story that illustrates beautifully some of my favorite verses from the bible--1 Corinthians 13:4-7
Love is patient, love is kind. It does not envy, it does not boast, it is not proud. It does not dishonor others, it is not self-seeking, it is not easily angered, it keeps no record of wrongs. Love does not delight in evil but rejoices with the truth.
It always protects, always trusts, always hopes, always perseveres.
Tucker Mason is a photographer of international fame who has seen life in all its beauty and tragedy. When his brother escapes from a mental institution and an old girlfriend appears with a son and a black eye, Tucker is forced to go back home where he will have to face the pain of his own past. Growing up in the home of an abusive, alcoholic father in rural Alabama, the best thing his father ever did for Tucker was hire Miss Ella Rain to look after them.
Miss Ella is my favorite character from the book, and her timeless words of wisdom about the redeeming power of love are infused in just about every page and indelibly written on Tucker's heart. Here's just one brief example: "Light doesn't have to announce its way into a room or ask the darkness to leave. It just is. It walks ahead of you, and the darkness rolls back like a tide." Like that? Here's another: "Child," she said placing her head to mine and her callused fingers on my cheek, "you can whip it and beat it senseless, you can drag it through the streets and spit on it, you can even dangle it from a tree, drive spikes through it, and drain the last breath from it, but in the end, no matter what you do, and no matter how hard you try to kill it, love wins."
This book touched me to my core from the very first pages. I did not want to put it down. Thought provoking and beautifully written.